Our Trust
Aston All Saints C of E Primary School is part of the Diocese Sheffield Academies Trust (DSAT). Statutory responsibility for our school sits with our trust, and we have a local governing body who support them in their work. See the trust website for details: www.dsat.education
We also work very closely with, and share an Executive Head with Treeton CE Primary School, another school within our trust.
DSAT is based at Flanderwell Early Excellence Centre, Greenfield Court, Flanderwell, S66 2JF. 01709 718640.
Click

here

to access the DSAT policies.
Click here for more information about our trust- DSAT.
Click here for our trust 'Directors Trustees Business Interests.'
Click here for our trust Board of Directors.
Our Governing Body
Charlotte Darling is the Chair of Governors and can be contacted through school - Tel: 01142872100 email: enquiries@aasp.dsat.education
The Governors and I are very proud to be part of the Aston All Saints family. We work in partnership with the teachers , parents and pupils with the aim of delivering an excellent education service in a caring Christian environment. The links with our local church of Aston All Saints Parish Church are strong , visible and greatly valued.
Our aim is that our school feels like a welcoming place to be from the first point of entry: friendly, approachable and enjoyable. We strive to maximise individual potential, celebrate achievement and provide high quality teaching and learning for all our children. Although our focus will always be on high standards of academic attainment, we also give priority to a rich and diverse curriculum that includes music, culture, the arts and sport. The young people who leave our school at eleven are invariably talented, caring, sociable and confident individuals who are about to make their mark on the world.
We all remain committed to an outstanding future and the continuous improvement of our school for the benefit of the wonderful children we have here. We look forward to meeting you in either school or church.
Charlotte Darling
Contact for the Diocese of Sheffield Academy Trust

- Flanderwell Early Excellence Centre, Greenfield Court, Flanderwell, Rotherham, S66 2JF
INSTRUMENT OF GOVERNMENT
The name of the school is: ASTON ALL SAINTS C OF E PRIMARY SCHOOL
The school is an ACADEMY [DSAT - Diocese of Sheffield Academy Trust]
The name of the governing body is: ASTON ALL SAINTS GOVERNING BODY
The governing body of ASTON ALL SAINTS C OF E PRIMARY SCHOOL
The governing body shall consist of
3 foundation governors,
2 elected parent governors [of which one shall also be a foundation governor]
1elected staff governor
1 Ex-officio Priest
1 Head teacher
Total number of governors 8
The following foundation bodies are entitled to appoint
- foundation governors:
Details of who will be appointing Foundation governors and the number in each category - Bishop's Appointed, Ex-Officio, Diocesan Board, Parochial Church Council.
A trust exists.
School Ethos:
Recognising its historic foundation, the school will preserve and develop its religious character in accordance with the principles of the Church of England and in partnership with the Church at parish and diocesan level.
The school aims to serve its community by providing an education of the highest quality within the context of Christian beliefs and practice. It encourages an understanding of the meaning and significance of faith, and promotes Christian values through the experience it offers to all its pupils.
The Christian ethos is at the heart of all we do and supports our aim for everyone to achieve their full potential.
The Christian ethos is a fundamental part of our school life where everyone's contribution is acknowledged and valued. Our strong links with Aston All Saints Parish Church strengthens and supports our spiritual well-being.
This instrument of government came into effect on 1st September 2015.
Governing Body Boards:
Finance HR and Assets Board - Mrs C Darling (Chair), Mrs J Coyle, Mrs R Morley, Mr Edwards, Mr S Otten
Curriculum and School Improvement Board - Mrs J Coyle (Chair), Mrs R Morley, Mrs S Denyer, Mrs A Moss, Mrs R Mottershaw
Trustee/Directors Register of Business/Pecuniary Interests
"A conflict of interest is a set of circumstances that creates a risk that an individual's ability to apply judgement or act in one role is, or could be, impaired or influenced by a secondary interest. It can occur in any situation where an individual or organisation (private or government) can exploit a professional or official role for personal or other benefit. This definition is based on generally accepted standards". Source: National Audit Office.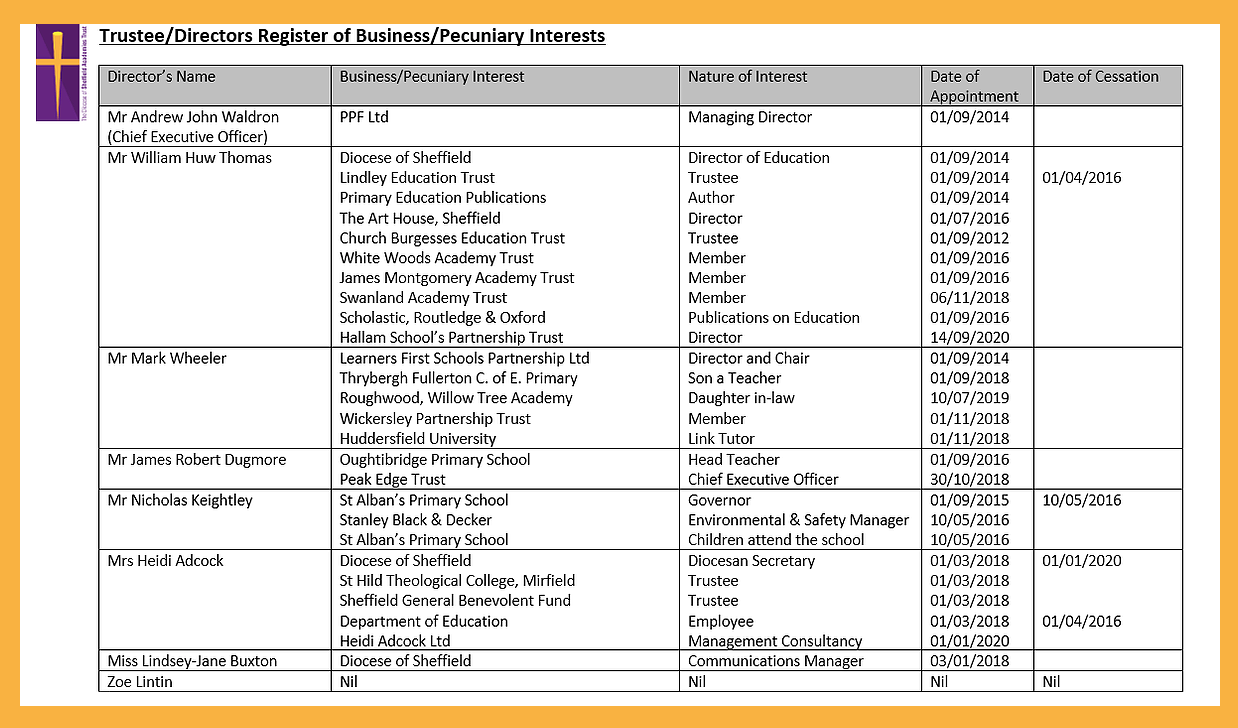 Name

Business/Pecuniary Interest

Nature of Interest

Date of Appointment

Date of Cessation

Mrs Deborah Ball

Aston C. of E. Primary School

Executive Headteacher

1/9/21

Mrs Rachel Morley

Aston C of E Primary School

Headteacher

1/9/21

Mrs Sue Mellor

Aston C. of E. Primary School

Head Teacher

01/12/2014

31/8/21

Mrs Judith Coyle

Aston C. of E. Primary School

Foundation Governor

01/12/2018

Mrs Anne Moss

Aston C. of E. Primary School

Foundation and Parent Governor

01/12/2018

30/9/21

Mrs Charlotte Darling

Aston C. of E. Primary School

Chair of Governors

Foundation

01/12/2018

Mrs Sarah Denyer

Aston C. of E. Primary School

Foundation Governor

01/12/2018
Reverend Frances Eccleston Aston C of E Primary School Governor 01/04/2016 30/04/19
Mr Stuart Otten Aston C of E Primary School Parent Governor 01/07/2017
Mrs Rebecca Mottershaw Aston C of E Primary School Staff Governor 01/09/2018
Reverend Vicky Camber Aston C of E Primary School Governor Ex Officio 01/09/2019
Mr Pete Edwards Aston C of E Primary School Co-opted Governor 01/11/2019
Aston All Saints Church of England Primary School
Governing Body Action Plan 2021-2022 - TBC
Governing Body

Mrs D Ball - Executive Head teacher

Mrs R Morley - Head teacher

Mrs J Coyle – Vice Chair Foundation Governor

Mrs C Darling – Foundation Governor and Chair of Governors

Mrs S Denyer– Foundation Governor

Mrs R Mottershaw – Staff Governor

Mr S Otten - Parent Governor

Mr P Edwards - Co opted Governor

Reverend Vicky Camber Ex Officio
Attendance register
| | | | | | | | | | | | | | | | | |
| --- | --- | --- | --- | --- | --- | --- | --- | --- | --- | --- | --- | --- | --- | --- | --- | --- |
| | | | | | | | | | | | | | | | | |
| P = present A = apologies accepted NA = not expected at this meeting | Mrs J Coyle | Mrs S Mellor | Mrs C Darling | Mrs H Searle | Rev F Eccleston | Mrs S Denyer | Mrs A Moss | Mrs R Mottershaw | Mr A Waldron | Mr S Otten | Mrs J Walsh | Mrs L Walker | Mr P Edwards | Rev Vicky Camber | Mrs R Morley | |
| School Improvement Board - 10 Jan 17 | P | P | NA | A | NA | P | P | NA | NA | NA | A | A | | | | |
| Full Governors Meeting - 7 Feb 17 | P | P | P | P | P | P | A | NA | NA | | NA | NA | | | | |
| School Improvement Board - 14 Feb 17 | A | P | NA | A | NA | P | P | NA | NA | | A | NA | | | | |
| School Improvement Board - 7 Mar 17 | P | P | NA | P | NA | P | P | NA | NA | | A | A | | | | |
| Governors training meeting - 31 Mar 17 | P | A | P | A | NA | P | P | NA | A | | NA | NA | | | | |
| Staffing and Finance Board - 8 May 17 | P | P | P | NA | NA | NA | NA | NA | | | NA | NA | | | | |
| Staffing and Finance Board - 9 May 17 | P | P | P | NA | A | NA | NA | NA | | | NA | NA | | | | |
| Staffing and Finance Board - 12 May 17 | P | P | P | NA | NA | NA | NA | NA | | | NA | NA | | | | |
| Full Governors Meeting - 24 May 17 | P | P | P | A | P | P | A | NA | | | NA | NA | | | | |
| School Improvement Board - 10 July 17 | P | P | P | NA | NA | P | p | A | | | NA | NA | | | | |
| Staffing and Finance Board - 12 July 17 | P | P | P | NA | P | NA | NA | NA | | P | NA | NA | | | | |
| Staffing and Finance Board - 19 Sept 17 | P | P | P | NA | A | NA | NA | NA | | P | NA | NA | | | | |
| School Improvement Board - 16 Oct 17 | P | P | P | NA | A | P | P | P | | NA | NA | NA | | | | |
| Staffing and Finance Board - 27 Nov 17 | P | P | P | NA | NA | NA | P | NA | | P | NA | NA | | | | |
| Staffing and Finance Board - 6 Feb 18 | P | P | A | NA | NA | NA | P | NA | | P | NA | NA | | | | |
| School Improvement Board - 6 Feb 18 | P | P | A | NA | A | A | P | P | | NA | NA | NA | | | | |
| Full Governors Meeting - 20 Feb 18 | P | P | P | NA | P | P | P | P | | P | NA | NA | | | | |
| School Improvement Board - 12 Mar 18 | P | P | NA | NA | P | P | NA | P | | NA | P | NA | | | | |
| School Improvement Board - 30 Apr 18 | P | P | NA | NA | A | P | NA | P | | NA | NA | NA | | | | |
| Staffing and Finance Board - 10 May 18 | P | P | P | NA | NA | NA | A | NA | | P | NA | NA | | | | |
| Full Governors Meeting - 5 June 18 | P | P | P | NA | P | P | A | P | | P | NA | NA | | | | |
| Staffing and Finance Board - 3 July 18 | P | P | P | NA | NA | NA | A | NA | | P | NA | NA | | | | |
| Staffing and Finance Board - 12 Sept 18 | P | P | P | NA | NA | NA | A | P | | P | NA | NA | | | | |
| School Improvement Board - 13 Sept 18 | P | P | NA | NA | P | P | NA | P | | NA | NA | NA | | | | |
| Staffing and Finance Board - 22 Oct 18 | P | P | p | NA | NA | NA | A | NA | | A | NA | NA | | | | |
| School Improvement Board - 24 Oct 18 | P | P | NA | NA | A | P | NA | P | | NA | NA | NA | | | | |
| Full Governors Meeting - 6 Nov 18 | P | P | P | NA | A | P | P | P | | P | NA | NA | | | | |
| | | | | | | | | | | | | | | | | |
Staffing and Finance Board - 22 Nov 18 P P P NA A NA NA NA A NA NA
School Improvement Board - 27 Nov 18 NA P P NA NA P P P NA NA NA
Staffing and Finance Board - 21 Jan 19 P P P NA P NA NA NA P NA NA
Staffing and Finance Board - 11 Feb 19 P A P NA P NA P NA P NA NA
Staffing and Finance Board - 4 Mar 19 P P P NA P P NA NA A NA NA
Full Governors Meeting - 19 Mar 19 A P P NA P P A P P NA NA
Staffing and Finance Board - 2 Apr 19 P P P NA A NA NA NA P NA NA
School Improvement Board - 9 May 19 P A P NA NA A A P NA NA NA
Full Governors Meeting - 4 June 19 P P P NA NA A A P P NA NA
Staffing and Finance Board - 17 Jul 19 A P P NA NA P NA NA A NA NA
School Improvement Board - 19 Sep 19 P P P NA NA P P P NA NA NA
Staffing and Finance Board - 26 Sep 19 P P P NA NA NA NA NA A NA NA
Full Governors Meeting - 12 Nov 19 P P P NA NA P P P A NA NA
Staffing and Finance Board - 28 Nov 19 A P P NA NA NA NA NA P NA NA
School Improvement Board - 4 Dec 19 A P P NA NA A P A NA NA NA
Staffing and Finance Board - 16 Jan 20 P P P NA NA NA NA NA P NA NA
School Improvement Board - 23 Jan 20 A P P NA NA P A P NA NA NA
School Improvement Board - 30 Jan 20 NA P P NA NA P P P NA NA NA
Full Governors Meeting - 12 Mar 20 P P P NA NA P P P P NA NA P
Full Governors Meeting - 20 Apr 20 P P P NA NA P P P P NA NA P
Full Governors Meeting - 13 May 20 P P P NA NA P P P P NA NA P
Full Governors Meeting - 20 May 20 P P P NA NA A P P A NA NA P
Full Governors Meeting - 2 June 20 P P P NA NA P P P P NA NA P
Staffing and Finance Meeting 8 Oct2020 P P P NA NA NA NA NA P NA NA P NA
Full Governing Board 12 Nov 2020 P P P NA NA P P P P NA NA P P
Admissions Meeting 1st Feb 2021 NA P P NA NA NA P NA NA P NA NA P